Story County Community Housing Corporation (SCCHC) – A Community Land Trust – is a county-wide, community-based, non-profit corporation working to create and maintain affordable rental and family-owned housing. We have both rental and home ownership opportunities.  Contact Martin Property Management to rent one of our apartments.
If you would like to support the work of our organization, please contact one of the board members listed in this website or call our office and leave a message here: (515) 292-3676. Ideas are also offered throughout this website.
Our Membership meeting for 2018 will be in March, 2018.  More details to follow.  These meetings usually take place in Room 202, Collegiate United Methodist Annex on Sheldon…just south of Dunkin Donuts.
We have exciting news…we have received a generous $40,000 donation from two members of our organization !  Thank you to them !! They wish to remain anonymous.  And, they wish to have their gift used to build affordable housing.  And, so we will pursue a building project to honor their request !!
We are in discussions with a local church in Ames, and hope to receive another $50,000 to be used for a build.  These funds can be leveraged with other sources of potential funds including:
Story County Housing Trust Funds — this is a new organization which came about through efforts by AMOS.  Our organization participates in AMOS efforts.
The Ames Community Endowment
United Way of Story County
Federal Home Loan Bank – affordable housing program
Foundations/financial institutions – community re-investment act requirements
Iowa Finance Authority / HUD Home program (specifically the CHDO allocation…SCCHC is a CHDO – a Community Housing Development Organization.
Individuals
Finding a suitable location for a build is always difficult.  We are in talks with the City of Ames, and the Emergency Residence Project (homeless shelter). The city still owns a 3 lot parcel located across from the Ames Police Station on Sixth Street.  They also own a parcel by Ken's Appliance on South Third.  Our president, Dale Vander Schaaf, will be talking with city officials about both parcels.  More information to follow.
As an update, the State Avenue project has begun.  The site was purchased with CDBG funds.  The developer has indicated a shortfall in funding of about $300,000.  Specifications in the proposal require that 60% of the units be affordable to those at 60 to 80% of median income in the area.  This will allow families who have incomes from approximately $30,000 to $70,000 annual income, depending on the number in the family, to live in the development.  The first phase will be 37 homes, 20 of them to be affordable — the $128,000 homes are 930 square feet, two bedrooms with unfinished basements. The $155,000 homes are 1,100 square feet with 3 bedrooms.  About 48 single family homes may be built on this property.
Your participation in the call for more affordable housing options is vital.  Thank you for continuing your focus on this critical issue.  City officials need your encouragement on this issue to continue to move it forward.
Why work for affordable housing?
In reviewing City reports on affordable housing needs in Ames, outcomes for low-income families continue to be dismal.  Nearly 50% of the households in Ames pay about 50% of their incomes for their housing.  This housing burden causes families to live with the constant stress of making ends meet to cover rent and living expenses.  Families need help when any extra, but normal, expense occurs.  The cost of a car repair or dental appointment can be a major expense which they cannot afford.
When a family doesn't have enough to cover such expenses, emergency help through churches and the Emergency Residence Project can help keep these families from losing their housing, but a more permanent solution is needed.   That is why the SCCHC continues to work to create affordable housing.
In 1992, a housing needs assessment identified the need for 2,000 units of affordable housing. Habitat and SCCHC have built homes or apartments for about 50 families since that time.  The city did respond to the calls of many in our community to direct Community Development Block Grant funds to the construction of affordable housing.  We are closer to this reality, but not there yet.  Your voice is needed to help the city create policies and take actions that will dramatically increase affordable housing units for our low-income, working families in Ames and Story County.
As a community-based organization, we want and need your support and input. Our SCCHC meetings take place at 6:30 p.m. on the third Wednesday of each month in the Collegiate United Methodist Annex, Room 202 at 130 S. Sheldon, Ames. Please feel free to attend.
If you'd like to become a member, please contact Trish Stauble, secretary of the board at patriciaastauble@gmail.com or the president of the board, Dale Vander Schaaf at director.housing@gmail.com. Thank you for supporting community-based, affordable housing initiatives in Ames and Story County.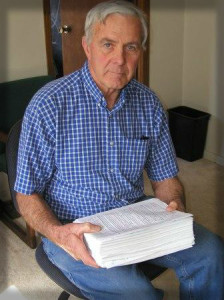 Vic Moss, past director of the homeless shelter–the Emergency Residence Project, in Ames at 225 S. Kellogg, showed the paper applications of about 750 families who applied for assistance for 2016. When working poor families spend 60 to 70% of their monthly income on rent, there is $200 left for them to live on. The best budgeter among us can't make that work!  Carrie Dunnwald is the new director of ERP…she says things are getting worse and more Story County families, than ever, are seeking assistance.